15-06-2023 / 17-06-2023
SOE Congress 2023 Prague
SOE Congress 2023 Prague
15 June 2023 - 17 June 2023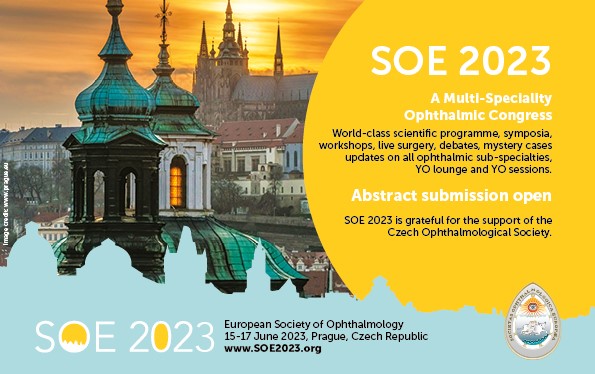 European Society of Ophthalmology (SOE) Congress, 15 - 17 June 2023,
Live in-person Congress
Location: Prague Congress Centre. Czech Republic
Register now to receive the Early Registration rates
https://soe2023.soevision.org/registration-fees/
A Multi-Speciality Ophthalmic meeting, delivering a world class scientific programme. Offering symposia, Suturing Courses, live surgery, debates, mystery cases, YO sessions and YO lounge plus updates on all ophthalmic sub-specialities.
Early Registration rate for YOs, €150
(Excluding vat)
Further reductions available for YOs who submit a successful abstract
Submit an abstract to SOE 2023 and present your work to an international delegation of experts and your peers.
Abstract submission deadline: 18 January 2023
Keynote Lecturers will be the following.
José Barraquer Lecture: Gerd Auffarth (Germany) – Cataract
Thursday 15 June 2023 (13.30 – 14.15hrs)
Robert Machemer Lecture: Marc de Smet, (Switzerland) – Retina
Friday 16 June 2023 (13.15 – 14.00hrs)
Richard Collin Lecture: Michèle Beaconsfield (United Kingdom) – Oculoplastic Surgery
Saturday 17 June 2023 (13.15 – 14.00hrs)
The meeting will be under the auspices of the Ministry of Health of the Czech Republic, and the SOE thank the Czech Ophthalmological Society for their continued support.
For further information visit
https://soe2023.soevision.org/
Web: www.soevision.org